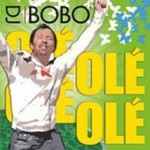 DJ BoBo gönnt sich kein Pause, nun kündigt er noch vor seinem Start der "Vampires Alive"-Tour ein Sommer-Album an. DJ BoBo ist für seine vielen Sommerhits bekannt und genau diese, aus über eineinhalb Jahrzehnten, packt er nun auf das Album "Olé Olé - The Party", das am 11. April 2008 erscheinen wird.
Tracks:
Olé Olé
The Sun Will Shine On You
The Last Vampire
Everybody (Summer Sunshine Mix)
Let The Games Begin
Chihuahua
Let The Music Take Control
It's My Life
Pura Pasion
There's A Party
Together (Unreleased Version)
Vampires Are Alive (EAPM Remix)
Als Bonus gibt es auf der Scheibe noch den "Party Hitmix" und "Allez Allez".